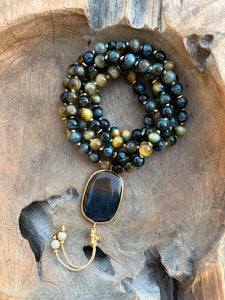 Hawk's eye and Tiger's Mala with Pietersite Guru Bead
Blue Tiger's Eye, or Hawk's Eye, can illuminate issues that may have been difficult to see otherwise. Blue Tiger's Eye helps to open, clear and align the mid to higher range chakras, which will assist in speaking with clarity and acting from a place of integrity.
Tiger's Eye is a stone that can give you courage, strength of mind, and self-confidence to tackle anything that will come your way. It will help you accomplish your goals because your focus and creativity will be greatly enhanced.
Pietersite has a strong vibration that makes an energetic connection to your deeper spiritual inner self. It is a stone that encourages you to understand that you are a spiritual being. It helps you to access spiritual guidance, and allows you to look further than where you are now, to see the big picture.
Designed and hand-knotted by Rana Nader. Vegan thread, all-natural stones and lead-free spacers are used to create these original Malas that are unique to Rana Nader Yoga Jewelry.