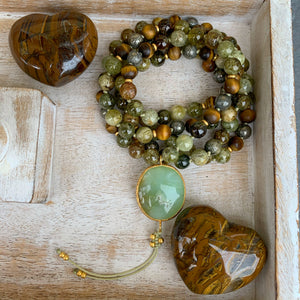 Green Garnet, Tiger's Eye & Pyrite Mala with Chrysoprase Guru Bead
Green Garnet is the symbol of prosperity. Whatever you might have your heart set on, it will help you manifest it. 
Tiger's Eye is a stone that can give you courage, strength of mind, and self-confidence to tackle anything that will come your way. It will help you accomplish your goals because your focus and creativity will be greatly enhanced.
Pyrite is a symbol of abundance, prosperity and good luck. Gaze upon this stone and remember your intention and its powerful healing properties.
Chrysoprase is the stone of letting go of the anger that can cause depression, and helps make room for new love and joy.
Lord Ganesha is the symbol of removing the obstacles from your way.
Designed and hand-knotted by Rana Nader. Vegan thread, all-natural stones and lead-free spacers are used to create this original Mala that is unique to Rana Nader Yoga Jewelry.