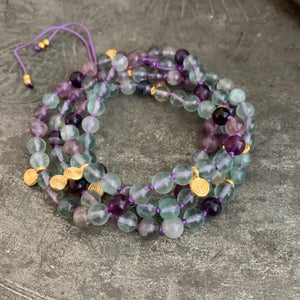 Fluorite Adjustable Mala with 6mm Beads
Fluorite helps you concentrate on the positive thoughts and filters out the negative images of yourself that might occur in your third eye center.
This is an adjustable mala, and can be worn either as a necklace or as a bracelet, and is designed to fit both men's and women's wrist sizes perfectly.
Designed and hand-knotted by Rana Nader. Vegan thread, all-natural stones and lead-free spacers are used to create these original Malas that are unique to Rana Nader Yoga Jewelry.