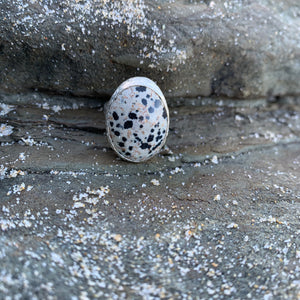 Dalmation Jasper Ring in Silver
Dalmation Jasper is a stone of stamina and strength. It reminds you to be playful in your life, and encourages you to do what needs to be done in your career.
The base material of the ring is brass, and is specially plated with Sterling Silver.
This ring is adjustable from size 5 to 11.
All rings are designed and handmade by Rana Nader Yoga Jewelry.