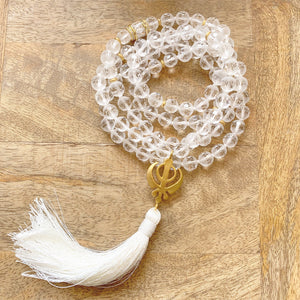 Clear Quartz Mala with Adi Shakti Guru Bead
Clear Quartz opens your crown chakra and helps you to be more connected with other energies. It allows you to activate self-consciousness and to think beyond just a physical body.
One of the most ancient symbols of the sacred feminine is the Adi Shakti. The oldest form of prayer, the Adi Shakti symbolizes the lone woman, her arms raised to the sky, curved in a graceful arc, as if holding the entire world and supplicating the universe to align itself with her word. This ancient symbol is the key to unlocking the power of our own sacred feminine. It reminds us of our infinity, our divinity. The Adi Shakti represents the creative power that lies within every woman.
Designed and hand-knotted by Rana Nader. Vegan thread, all-natural stones and lead-free spacers are used to create this original Mala that is unique to Rana Nader Yoga Jewelry