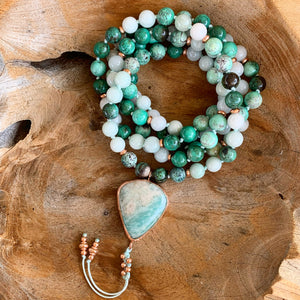 Chrysocolla and Burma Jade Mala with Amazonite Guru Bead
Burma Jadeite Stimulating its owner's independence. it is a gemstone for you to think and act by yourself, it would prevent you from getting controlled by false information and direction. it's also filled with positive energy and it attracts luck.
Chrysocolla is used to expand the capacity of your heart to receive more love when you least expect it. 
Amazonite is used for emotional balance. It's also the color of the ocean and the sand, which creates a great feeling of calmness.
All malas are made with 8mm beads, unless otherwise specified. 
Designed and hand-knotted by Rana Nader. Vegan thread, all-natural stones and lead-free spacers are used to create these original Malas that are unique to Rana Nader Yoga Jewelry.