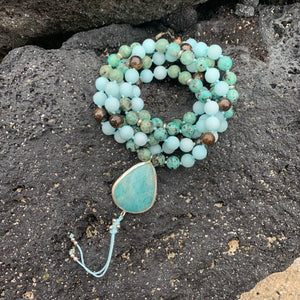 African Turquoise, Bronzite and Amazonite Mala with Amazonite Guru Bead
Bronzite is a "stone of courtesy", especially helpful to people who greet and assist the public. It will even instil a polite nature in those around you. Emotionally, Bronzite promotes a loving and unprejudiced discernment within us. It provides the ability to resolve unsettled emotions in our life.
African Turquoise is a stone that brings structure, balance and prosperity where it is due. This is a stone that hands over a key to new life with its offerings, and awakens the soul to its intended purpose, encouraging the being to make positive impressions while gaining and giving positive wisdom. 
Amazonite is used for emotional balance. It's also the color of the ocean and the sand, which creates a great feeling of calmness. 
Designed and hand-knotted by Rana Nader. Vegan thread, all-natural stones and lead-free spacers are used to create these original Malas that are unique to Rana Nader Yoga Jewelry.