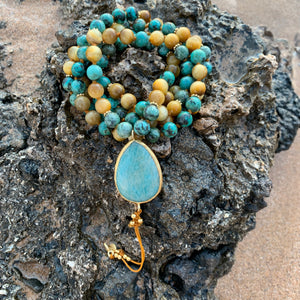 African Turquoise and Golden Tiger's eye Mala with Amazonite Guru Bead
Golden Tiger's is a powerful stone for increasing self-understanding and self-respect. It is grounding during chaotic situations and brings issues into perspective.
African Turquoise is a stone that brings structure, balance and prosperity where it is due. This is a stone that hands over a key to new life with its offerings, and awakens the soul to its intended purpose, encouraging the being to make positive impressions while gaining and giving positive wisdom. 
Amazonite is used for emotional balance. It's also the color of the ocean and the sand, which creates a great feeling of calmness.
These are adjustable malas, and can be worn either as a necklace or as a bracelet, and are designed to fit both men's and women's wrist sizes perfectly.