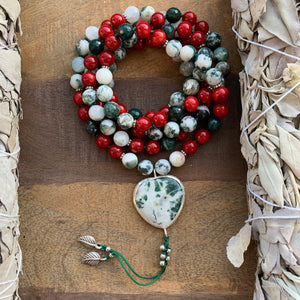 Moss Agate, Coral and Bloodstone Mala with Moss Agate Guru Bead
Moss Agate carries energies of persistence and endurance, and can boost your optimism. This crystal can also help you release old and unhealthy habits.
Mediterranean Red Coral helps to connect you with your roots and Mother Earth, and is very grounding.

Bloodstone is an essential healing tool for letting go, returning your spirit to its natural state of joy and vitality.

Designed and hand-knotted by Rana Nader. Vegan thread, all-natural stones and lead-free spacers are used to create this original Mala that is unique to Rana Nader Yoga Jewelry.