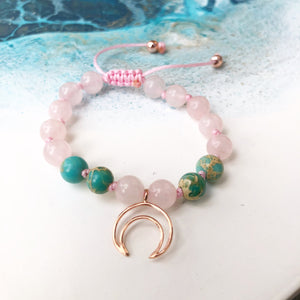 Rose Quartz & Sea Sediment Jasper Adjustable Beaded Bracelet with Rose Gold Crescent Moon
Rose Quartz is the stone of inviting more love, though it's not just romantic love that Rose Quartz embodies. It facilitates love entering your life by bringing your consciousness to a higher level.
Sea Sediment Jasper is used for protection and balance between the heart, mind and soul. 
The Rose Gold sterling silver Crescent moon symbolizes growth and creativity.
Available in both adult and children's sizes. 
This beaded bracelet is adjustable.
Designed and hand-knotted by Rana Nader. Vegan thread, all-natural stones and lead-free spacers are used to create these original beaded bracelets that are unique to Rana Nader Yoga Jewelry.