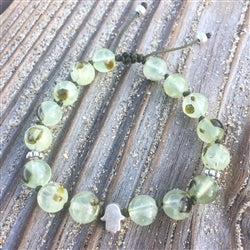 Prehnite Adjustable Beaded Bracelet with Hamsa Hand
Prehnite is the crystal of receiving unconditional love from everything around you. It's a great reminder for those who are going through a painful stage in their life to see the love that exists in everything around them.
The Hamsa Hand represents a hand of protection and support, and it is used universally across all religions.
This beaded bracelet is adjustable.
Designed and hand-knotted by Rana Nader. Vegan thread, all-natural stones and lead-free spacers are used to create these original beaded bracelets that are unique to Rana Nader Yoga Jewelry.