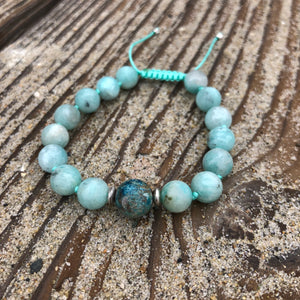 Ocean Jasper & Amazonite Adjustable Beaded Bracelet
Ocean Jasper has a deep connection to the ocean, and is known for being a nurturing and protective stone. Ocean Jasper brings comfort by alleviating fear, stress and anxiety.
Amazonite is used for emotional balance. It's also the color of the ocean, which creates a great feeling of calmness.
This beaded bracelet is adjustable.
Designed and hand-knotted by Rana Nader. Vegan thread, all-natural stones and lead-free spacers are used to create these original beaded bracelets that are unique to Rana Nader Yoga Jewelry.