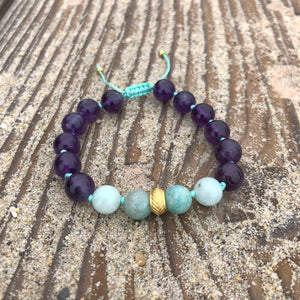 Amethyst & Amazonite Adjustable Beaded Bracelet
Amethyst is the crystal of joy and happiness. It clears your third eye center from negativity and helps you to see yourself in a positive place in life, which will help you to be more joyful and happy.
Amazonite is used for emotional balance. It's also the color of the ocean and the sand, which creates a great feeling of calmness.
This beaded bracelet is adjustable.
Designed and hand-knotted by Rana Nader. Vegan thread, all-natural stones and lead-free spacers are used to create these original beaded bracelets that are unique to Rana Nader Yoga Jewelry.