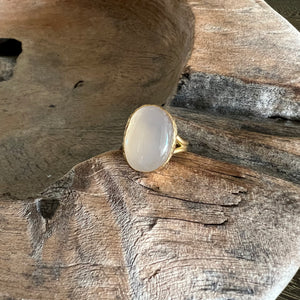 Botswana Agate Ring in Gold
Botswana Agate is a stone which aids with detoxification and increases fertility, passion, sensuality and sexuality. Botswana Agate can help those who have repressed emotional issues that need to be addressed so that they can let go (release) and heal. 
The base material of the ring is brass, and is specially plated with gold.
This ring is adjustable from size 5 to 11.
All rings are designed and handmade by Rana Nader Yoga Jewelry.