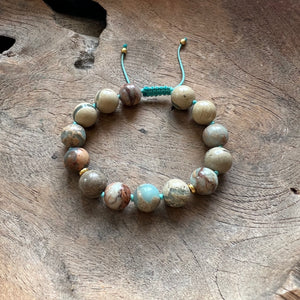 Blue Peruvian Opal Adjustable Beaded Bracelet 10mm
Blue Peruvian Opal will soften the effects of stress on your body, mind, and spirit. Blue Peruvian Opal will also help you release your old wounds brought about by emotional trauma. It will give you emotional healing so that you will regain the balance that you have lost in your life.
This beaded bracelet is adjustable, and made with 10mm beads.
Designed and hand-knotted by Rana Nader. Vegan thread, all-natural stones and lead-free spacers are used to create these original beaded bracelets that are unique to Rana Nader Yoga Jewelry.