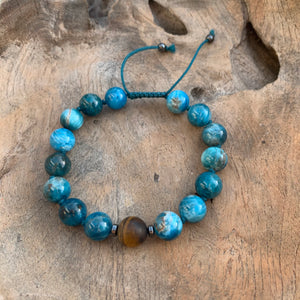 Blue Apatite, Tiger's Eye and Hematite Adjustable Beaded Bracelet
Apatite is the stone of clarity and decision-making. It helps you use your heart to choose between right and wrong.
Tiger's Eye is a stone that can give you courage, strength of mind, and self-confidence to tackle anything that will come your way. It will help you accomplish your goals because your focus and creativity will be greatly enhanced.
Hematite helps clean and clear you from carrying other people's energy. A perfect crystal for people in touch with others for their work.
This beaded bracelet is adjustable.
Designed and hand-knotted by Rana Nader. Vegan thread, all-natural stones and lead-free spacers are used to create this original beaded bracelet that is unique to Rana Nader Yoga Jewelry.