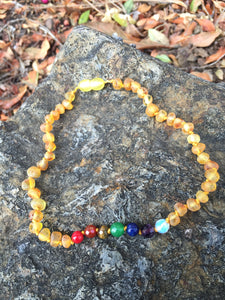 Amber Teething Necklace 7 Chakra Beads
12 inches of hand-knotted amber beads that are knotted in between each bead. The clasp is specially made for use as a baby teething necklace - it won't come apart by itself, but if you pull it slightly it will come off.
The 7 Chakra beads are:
Mediterranean Red Coral helps to connect you with your roots and Mother Earth, and is very grounding.
Carnelian is the most powerful stone to boost feminine energy and let you be yourself. As women, we are always told that it is not good to be emotional. But these emotions that are caused by our femininity are so one-of-a-kind and authentic, that if you make friends with them and use them as a tool to be creative in your love life or at work, they can take you to the edge of your success.
Tiger's Eye is a stone that can give you courage, strength of mind, and self-confidence to tackle anything that will come your way. It will help you accomplish your goals because your focus and creativity will be greatly enhanced.
Green Aventurine is known as the heart comforter.
Lapis Lazuli is for speaking with courage and kindness.
Amethyst is the crystal of joy and happiness. It clears your third eye center from negativity and helps you to see yourself in a positive place in life, which will help you to be more joyful and happy.
Moonstone aids in inner growth and consciousness, and strengthens intuition and stabilizes emotions. It is known as a stone for new beginnings, success and abundance.
Available in either a deeper Honey color or a lighter Lemon color amber.
Designed and hand-knotted by Rana Nader. Vegan thread, all-natural stones and lead-free spacers are used to create this original necklace that is unique to Rana Nader Yoga Jewelry.