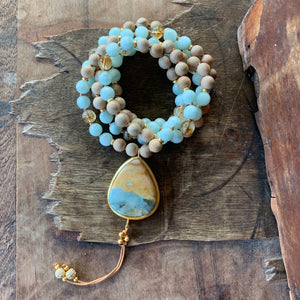 AgarWood , Angelite and Citrine Mala with Polychrome Jasper Guru Bead
Polychrome Jasper is a stone that's strongly connected to the Fire element, and it embodies passion, exuberance, vibrancy, vitality, action, and creativity. This particular Jasper stone also has very strong grounding, centering, and stabilizing energies that will deepen and strengthen your connection to Mother Earth.

Citrine is the crystal of success. It is a stone of manifestation, helping to manifest individuality, creativity and self-expression, and helps with mental concentration.
Agarwood is a special wood from Indonesia that has a very calming and relaxing scent. After wearing it against your skin for a while, you can tell by the strength of the scent if you're relaxed or anxious. It also smells differently on different people's bodies.
Green Angelite Wearing this stone is believed to have a calming effect on you and connect you easily to your spirit guides and guardian angels.
It is known to support you in conquering your fears and in removing the blockages in your life.
Designed and hand-knotted by Rana Nader. Vegan thread, all-natural stones and lead-free spacers are used to create this original Mala that is unique to Rana Nader Yoga Jewelry.