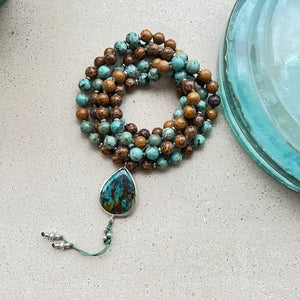 African Turquoise and Elephant Skin Jasper Mala with Persian Turquoise Guru Bead
African Turquoise is a stone that brings structure, balance and prosperity where it is due. This is a stone that hands over a key to new life with its offerings, and awakens the soul to its intended purpose, encouraging the being to make positive impressions while gaining and giving positive wisdom. 

Elephant Skin Jasper helps to overcome loneliness, learning to love yourself. It can aid you to feel more positive about life, and if you have a situation in your life that you feel is hopeless, use this stone to help you. Brings the fun back to nature and the older slower way of life.

Persian Turquoise is one of the rarest and most precious types of Turquoise, and it helps with protection from other people's negative energy in your life.
These are adjustable malas, and can be worn either as a necklace or as a bracelet, and are designed to fit both men's and women's wrist sizes perfectly.