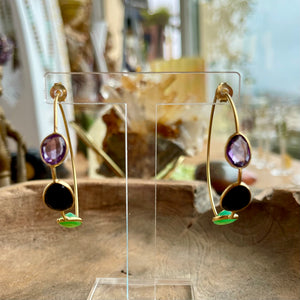 Silver - Amethyst, Black Onyx and Chrysoprase Earrings
Amethyst is the crystal of joy and happiness. It clears your third eye center from negativity and helps you to see yourself in a positive place in life, which will help you to be more joyful and happy.
Black Onyx is used for protection and balancing the Root chakra to feel safe and strong.
Chrysoprase is the stone of letting go of the anger that can cause depression, and helps make room for new love and joy.
The base metal used in these earrings is sterling silver. You also have the option of Rose Gold or Gold plated sterling silver.