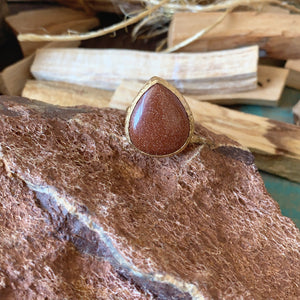 Teardrop Goldstones Ring in Gold
Goldstone is said to be the stone of ambition. It builds energy, courage and a positive attitude. Increases drive and confidence. A gently uplifting stone, Goldstone promotes vitality.
The base material of the ring is brass, and is specially plated with gold.
This ring is adjustable from size 5 to 11.
All rings are designed and handmade by Rana Nader Yoga Jewelry.