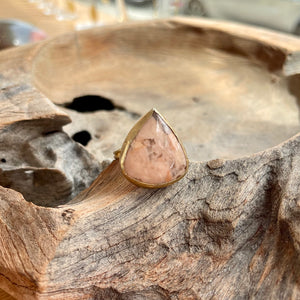 Silver - Orthoclase Feldspar ring in Gold
Sunstone allows the real self to shine through happily, and helps you to explore your authentic self. It dissipates fearfulness, alleviates stress and increases vitality. It also encourages independence and originality.
Orthoclase Feldspar Helps one to recognize their life purpose.
This setting is 26mm.
The base material of the ring is brass, and is specially plated with 22kt gold.
This ring is adjustable from size 5 to 11.
All rings are designed and handmade by Rana Nader Yoga Jewelry.