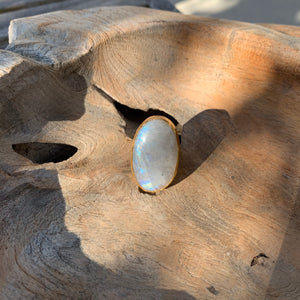 Moonstone Ring in Gold
Moonstone aids in inner growth and consciousness, and strengthens intuition and stabilizes emotions. It is known as a stone for new beginnings, success and abundance.
This setting is 30mm.
The base material of the ring is brass, and is specially plated with gold.
This ring is adjustable from size 5.5 to 11.
All rings are designed and handmade by Rana Nader Yoga Jewelry.