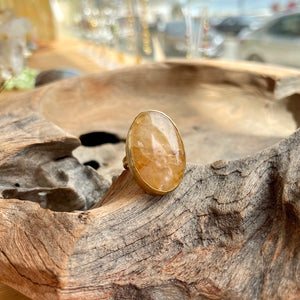 Chlorite Quartz Ring in Gold
Chlorite Quartz is often called the Quartz of Compassion, The Chlorite is connected with the deepest emotions in your heart chakra. It is very effective for healing the heart and helping to resolve matters of the heart. Meditating with Chlorite Quartz and placing it over your heart facilitates healing and removes blockages to allow you to forgive, let go, release and move forward.
The base material of the ring is brass, and is specially plated with gold.
This ring is adjustable from size 5.5 to 9.
All rings are designed and handmade by Rana Nader Yoga Jewelry.