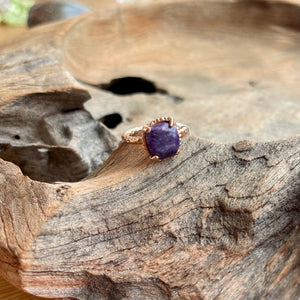 Cheroite Ring in Rose Gold
If you're at a point in your life where you're ready to make a big change, Charoite is a stone that can help you bring your dreams into reality, because it's also a stone of transformation. It's a soul stone. It can help you overcome resistance and release your fears while setting an intention for your future. 
The base material of the ring is brass, and is specially plated In Rose Gold.
This ring is size 6
All rings are designed and handmade by Rana Nader Yoga Jewelry.