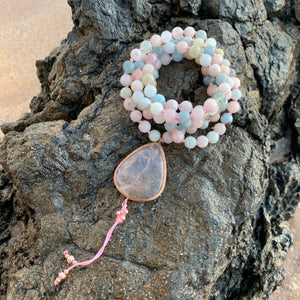 Morganite One of a Kind Mala with Rose Quartz Guru Bead
Morganite is the stone of kindness and compassion. It reminds you to always be kind and calm, even in moments of chaos, no matter whether it's towards yourself or others. 
Rose Quartz is the stone of inviting more love, though it's not just romantic love that Rose Quartz embodies. It facilitates love entering your life by bringing your consciousness to a higher level.
Designed and hand-knotted by Rana Nader. Vegan thread, all-natural stones and lead-free spacers are used to create these original Malas that are unique to Rana Nader Yoga Jewelry.