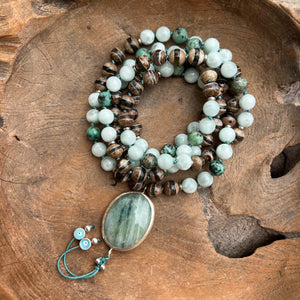 Tibetan Agate, African Turquoise and Green Angelite Mala with Aquamarine Guru Bead
Green Angelite Wearing this stone is believed to have a calming effect on you and connect you easily to your spirit guides and guardian angels.
It is known to support you in conquering your fears and in removing the blockages in your life.
African Turquoise is a stone that brings structure, balance and prosperity where it is due. This is a stone that hands over a key to new life with its offerings, and awakens the soul to its intended purpose, encouraging the being to make positive impressions while gaining and giving positive wisdom. 
Tibetan Agate helps to deepen your meditation and connect with your mantra.
Aquamarine is the strongest crystal of health and healing. It can also can invoke tolerance of others and help overcome judgmentalism, as well as give support to those overwhelmed by responsibility.
Designed and hand-knotted by Rana Nader. Vegan thread, all-natural stones and lead-free spacers are used to create this original Mala that is unique to Rana Nader Yoga Jewelry.