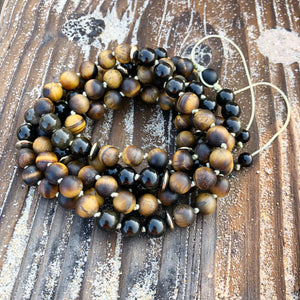 Matte Tiger's Eye, Obsidian & Hematite Adjustable Mala
Tiger's Eye is a stone that can give you courage, strength of mind, and self-confidence to tackle anything that will come your way. It will help you accomplish your goals because your focus and creativity will be greatly enhanced.
Obsidian is a strongly protective stone against sickness, and it forms a shield against negativity. Obsidian also draws out mental stress and tension. That's why it's called the crystal of health and protection.Hematite is to protect you from your own negative thoughts.
Hematite helps clean and clear you from carrying other people's energy. A perfect crystal for people in touch with others for their work.
This is an adjustable mala, and can be worn either as a necklace or as a bracelet, and is designed to fit both men's and women's wrist sizes perfectly.
Designed and hand-knotted by Rana Nader. Vegan thread, all-natural stones and lead-free spacers are used to create this original Mala that is unique to Rana Nader Yoga Jewelry.