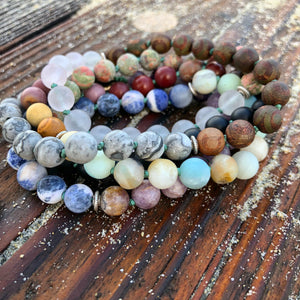 7 Chakra Matte Adjustable Mala
Amethyst is the crystal of joy and happiness. It clears your third eye center from negativity and helps you to see yourself in a positive place in life, which will help you to be more joyful and happy. Rose Quartz is used to invite love.
Sodalite is known to activate your throat chakra to speak your truth.
Picasso Jasper is to heal your heart.
Mookaite Jasper is used to activate your Sacral Chakra and use the emotions that are coming to be more creative with your love life.
Black Onyx is a stone of protection.
Amazonite is used for emotional balance. It's also the color of the ocean and the sand, which creates a great feeling of calmness.
Tibetan Agate is for deepening your meditation.
Unakite Jasper is a compassion and kindness stone.
This mala is designed and hand-knotted by Rana Nader. Vegan thread, all-natural stones and lead-free spacers are used to create this original Mala that is unique to Rana Nader Yoga Jewelry.
This adjustable mala can be worn either as a necklace or as a bracelet, and is designed to fit both men's and women's wrist sizes perfectly.