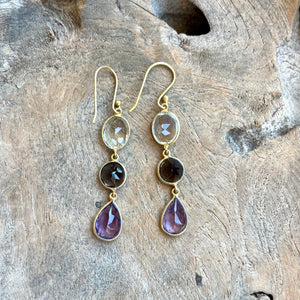 Silver - Smokey Quartz, Green Amethyst and Amethyst Earrings

Amethyst is the crystal of joy and happiness. It clears your third eye center from negativity and helps you to see yourself in a positive place in life, which will help you to be more joyful and happy.

Smoky Quartz is for balancing mood swings and is also very grounding.
The base metal used in these earrings is sterling silver. You also have the option of Rose Gold or Gold plated sterling silver.