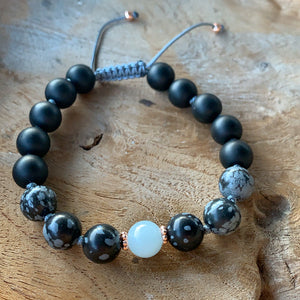 Snowflake Obsidian, Aquamarine and Matte Black Onyx Adjustable Beaded Bracelet
Aquamarine is the strongest crystal of health and healing. It can also can invoke tolerance of others and help overcome judgmentalism, as well as give support to those overwhelmed by responsibility.
Obsidian is a strongly protective stone against sickness, and it forms a shield against negativity. Obsidian also draws out mental stress and tension. That's why it's called the crystal of health and protection.
Black Onyx is used for protection and balancing the Root chakra to feel safe and strong.
This beaded bracelet is adjustable.
Designed and hand-knotted by Rana Nader. Vegan thread, all-natural stones and lead-free spacers are used to create these original beaded bracelets that are unique to Rana Nader Yoga Jewelry.