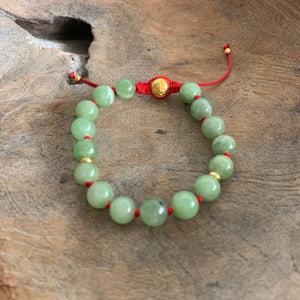 Jade Adjustable Beaded Bracelet
Jade is a magical stone that helps make the impossible possible by putting your heart in what you do. It also brings good fortune. In Chinese culture, when Jade is used with red thread, it brings good fortune.
This beaded bracelet is adjustable.
Designed and hand-knotted by Rana Nader. Vegan thread, all-natural stones and lead-free spacers are used to create these original beaded bracelets that are unique to Rana Nader Yoga Jewelry.