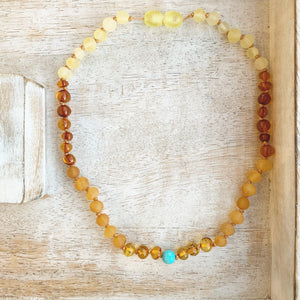 Amber Teething Necklace and Turquoise
12 inches of hand-knotted amber beads that are knotted in between each bead. The clasp is specially made for use as a baby teething necklace - it won't come apart by itself, but if you pull it slightly it will come off.
Made with Raw Honey and Lemon, Polished Honey and Cognac beads.
Turquoise offers protection, mostly from others' negative energy.
Designed and hand-knotted by Rana Nader. Vegan thread, all-natural stones and lead-free spacers are used to create this original necklace that is unique to Rana Nader Yoga Jewelry.