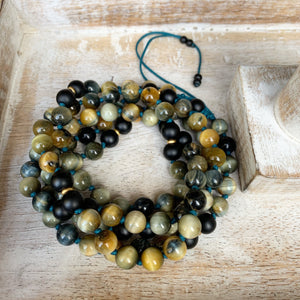 Blue Tiger's eye and Matte Black Onyx Adjustable Mala
Blue Tiger's Eye, or Hawk's Eye, can illuminate issues that may have been difficult to see otherwise. Blue Tiger's Eye helps to open, clear and align the mid to higher range chakras, which will assist in speaking with clarity and acting from a place of integrity. 
Black Onyx is used for protection and balancing the Root chakra to feel safe and strong.
Designed and hand-knotted by Rana Nader. Vegan thread, all-natural stones and lead-free spacers are used to create these original adjustable Malas that are unique to Rana Nader Yoga Jewelry.